How To Use an Oscillating Sprinkler?
Buying the best oscillating sprinkler is one thing, but using it is another. But do not worry as I will be covering that bit as well.
Before using an oscillating sprinkler, understanding how to set oscillating sprinkler is essential.
So how does an oscillating sprinkler work? Well, first you'd need to attach the hose to a connector. Usually, there will be a knob that lets you pick the spray pattern. This would be full, center, left, or right.
When connected, there will be a mechanism in place in which the arm gets pushed and pulled by a cam. This cam rotates slowly, enabling the arm to oscillate. Within this arm, is a hollow tube with holes on it. 
Water flows into the device and out from those holes and there you go! You've got yourself a functioning oscillating sprinkler.
How to adjust oscillating sprinkler
When adjusting the oscillating sprinkler, remember to first set your spray pattern. You may choose from the options available depending on the specific oscillating sprinkler.
If you're watering to the left side of the sprinkler, set it at the left and do so accordingly for the right side as well. Alternatively, you can set it to full if you wish to cover a wider radius of the ground. Setting the lever at the center position allows for watering single strips.
Remember to not overwater and to turn it off when not in use. Make small, incremental adjustments on dual ring sprinklers to achieve a specific path of water.
Benefits of Using an Oscillating Sprinkler
Apart from oscillating sprinklers appearing fancier, they sure do come with a lot of perks.
First off, you would be conserving water. During summer, the climate can get pretty hot. This would mean more water is required for the plants. Using an oscillating sprinkler can definitely allow you to use water more efficiently.
Take advantage of the oscillating sprinkler's automated system for a more self-sustaining quality for your lawn. 
Alternatively, you can also adjust your oscillating sprinkler to water other areas of your garden. Wherever you need watering done! Watering methods can even be adjusted according to size, type, and shape. 
Using an oscillating sprinkler would definitely be the first step you can take to care of your lawn not only during the summer season but for the long run as well. By conserving and using water efficiently, you'd also be doing the planet a favor. 
No need to worry about storage as these devices are usually kept at a spot. No more tangling rubber hoses, am I right? Having an oscillating sprinkler is definitely something to consider. 
Also, you'd get to brag about it.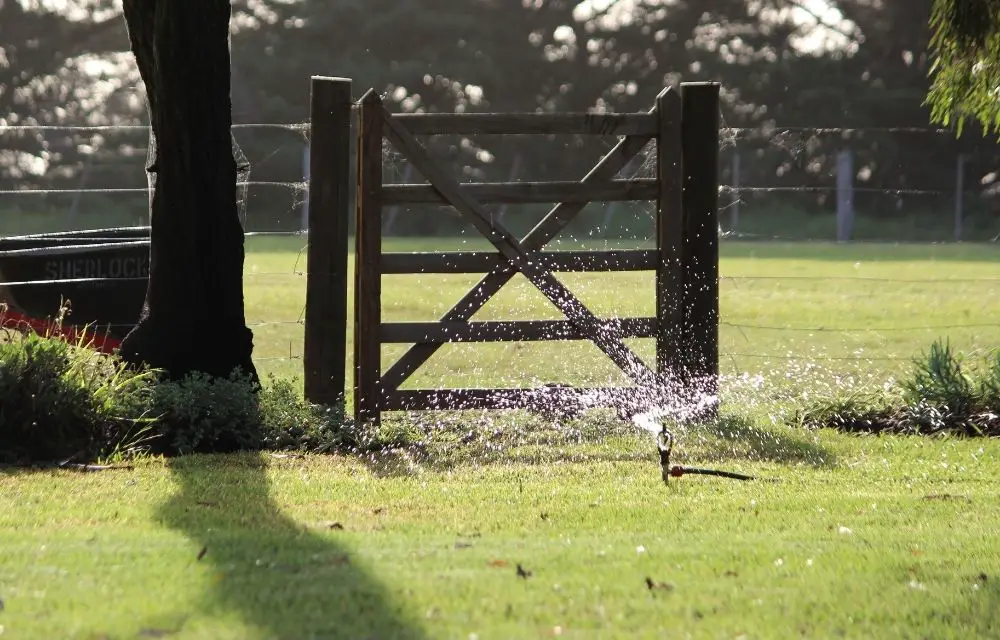 Best Oscillating Sprinkler Frequently Asked Questions
How long to water lawn with oscillating sprinkler
The answer to this depends on the size of your lawn and the output levels of water your oscillating sprinkler has. Use an empty can and place it within the radius of the oscillating sprinkler and leave it on for about 15 minutes to measure how much water is collected during that time. 
Multiply this value by 4 to have a better prediction of the oscillating sprinkler's hourly output. Use this to formulate how much water your lawn would need in a day. Aim to have at least 1-2 inches of water per week. 
Who makes the best oscillating sprinklers?
Aqua Joe, Melnor, and Eden are some of the most sought-after brands of oscillating sprinklers and they are all available online today.
How do I choose an oscillating sprinkler?
Research the brands that work and read oscillating sprinkler reviews. Numbers do not lie. These factors would set a good foundation to build on when you're picking the best oscillating lawn sprinklers to bring home.
Do oscillating sprinklers work?
Yes, they do. Be sure to keep in mind that you get what you pay for and following a manual can definitely do no harm.
What is the best kind of sprinkler?
There are many kinds of sprinklers to choose from with each of them carrying a distinct perk. Know your lawn and choose the one that is most appropriate and beneficial to your lawn.
What is the most efficient sprinkler?
The Melnor has been known to provide a fair trade on quality, value, and features. However, efficiency depends greatly on how you choose to use it.
How many minutes should you water your lawn?
20 minutes at a time seems to be adequate. Aim for at least 3 times a week and your lawn will thank you.
Conclusion
I think it is safe to say that you're sold on the idea of owning an oscillating sprinkler system. I mean why not, right?
Having an oscillating sprinkler is not only much cooler than the typical garden hose, but it also helps you keep your yard well-maintained while reducing your workload as well.
As I would say before buying any product in the market, remember to check for the materials used in the manufacturing of the oscillating sprinkler and maybe have an eye out for the ones with good after-sale services.
Remember that every oscillating sprinkler can vary slightly in use, so keep the manual close to having a good flow. No pun intended. 
Also, if you enjoyed this article, why not have a look at the related ones? I'm sure they're worth your time.
Related Articles: